May 2010
May 10, 2010
Sharks in the Park X was another great party. Thanks to all who came!
The fun continues in July on the 17th with our first funride of the year, back in Napa area. Details coming out soon. Stay tuned.
March 2010
March 07, 2010
Sharks in the Park X! - May 8 - Tilden Park, Berkeley.
The fun continues for NorCal 928 owners, families and friends with another glorious day for cars, food and fun in Tilden Park in May. For details, please look here.


March 02, 2010
Come See a Porsche 928 in the 24 Hours of Lemons, March 6, Infineon Raceway
Our season opens with a truly fun event. The 24 Hours of LeMons is no joke. In theory it's a race composed of beater level cars costing no more than $500, but with some creative approaches to financing and preparation these cars are generally amazingly competent race vehicles. And the racing is about as interesting and exciting as you will ever see. The bonus is that we now have a local Porsche 928 campaigning in the race series. Brian Doty of Stockton has put together an entry and recruited well-known 928 race drivers Mark Anderson and Mark Kibort and Sean Finn, a 928 racer from Canada to run the car in this endurance event. Below is a picture from the inaugural race of their car at Thunderhill. Note the "Estate Wagon" rear end reconfiguration.
Norcal928 members will be meeting at Infineon Raceway at the Turn 2 observation area on March 6 between 10:30 and 11:30 am. Note the race starts at 10:30am. Ticket are available at the event at $20 for the day or $30 should you want to attend both days of racing. Please RSVP to Nicole Mossinger by email at nicole"at"mossinger.com (substitute @ for "at").
July 2009
July 27, 2009
Monterey Historics, August 15 - Laguna Seca
I hope you can join us for a day at the 2009 Monterey Historics. This year Porsche is the featured marque, so it will be a great time to attend the Historics and see many legendary race cars on the track again. Over 145 historic Porsche race cars are expected. Tickets for Saturdays races and paddock pass are $65. If you plan to go please purchase your tickets in advance. For more information and ticket purchase, visit http://www.montereyhistoric.com/ or http://www.mazdaraceway.com/pages/Rolex_Monterey_Historic_Automobile_Races
We will have a short funride from San Jose to the racetrack early that morning with arrival planned for about 9:30am. Races continue throughout the day until about 5PM. An email blast will be sent with more details.
July 20, 2009
July Report:
I hope all of you have enjoyed at least one of our events over the past several months.
Santa Cruz Funride and Canepa Design Tour on July 18th was full of fascinating happenings and things to see.
Sharks in the Park IX on May 9th was one of out largest ever with over 30 cars. Glorious weather, glorious cars, wonderful people, great time.
March 2009
March 27, 2009
FUNRIDE! Long overdue! So, let's get to it. Saturday, April 11, Napa.
Meet at Baker's Square, 303 Starbucks, 247 Soscol Ave, Napa at 10:00 am. Exact route TBA. Stay tuned.
NOTE CHANGE IN MEETING LOCATION SHOWN ABOVE.

Sharks in the Park IX! - May 9 - Tilden Park, Berkeley.
The fun continues for NorCal 928 owners, families and friends with another glorious day for cars, food and fun in Tilden Park in May. For details, please look here.


December
2008
December 30, 2008
Sorry not to have posted anything for several months. We did have a few funrides that I need to report on and we will be having another in January. Stay tuned!
July
2008
July 28, 2008
Things are happening. Get ready for our next funride - Saturday, August 16 - Mines Road to Del Puerto Canyon - Livermore area - NOTE: See route update below.
The fun continues. After missing some funride dates due to interfering activities, we will get out and get some exercise on Saturday, August 16th. We'll repeat a nice ride we took last year, down Mines Road, south of Livermore, and out Del Puerto Canyon Road for brunch at the Diablo Grande Country Club (closed - new location TBA).
Join us for funride on August 16. Meet at 9:00 am at:
Starbucks (closed or not!)
Las Positas & Vasco - Livermore
223 South Vasco Road
Livermore, California 94550
08/04 - UPDATE TO ROUTE: Same meeting place and time as given above. However, we will reverse the route, heading out Tesla to 580/I-5S to Del Puerto Canyon to Mines and back to Livermore for lunch a Magoo's Pizza. (lunch will be a Melo's Pizza, 4433 1st St.).

Sharks at the Lake - another great event!


Thanks again to Tim and Cheryl Dey for hosting the most scenic 928 event in the West. Two days in paradise with lots of 928 buddies.
Thanks for Sharks in the Park VIII
The crowd was bigger than ever and the weather couldn't have been better. Special thanks to Alan Mochwart for supplying the delicious ribs again. We're so glad to see Alan back in the group. Special thanks as well to our principle raffle drawing gift providers, 928 International, Nicole Mossinger of Hooked on Cars, and to our cooks John Fagerland and Matt Edson, and greeter Steve Bondi.
See George Suennen's photo collection here.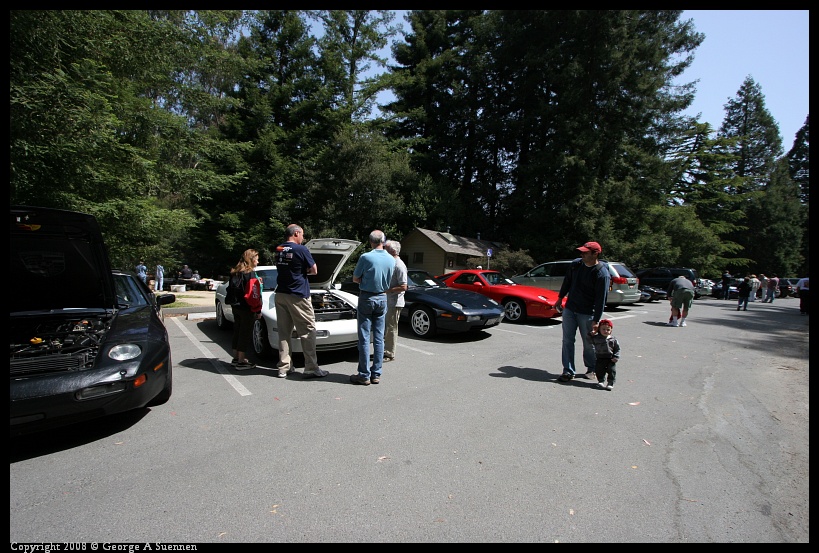 May 2008
It's done - just in time for Sharks in the Park!
Jim Morton, Dennis Kao and Bill Ball completed the total rebuild of Dennis's blown S4 motor just in the nick of time. Started and ran perfectly! For a rundown on the rebuild, take a look at the following video:

Rebuild of Dennis's Motor from William Ball on Vimeo.
April
2008
April 22, 2008
Get Ready for Sharks in the Park VIII - Saturday, May 10
The fun continues for NorCal 928 owners, families and friends with another glorious day for cars, food and fun in Tilden Park in May. For details, please look here.

See this link for a photo summary of SITP VII put together by George Suennen.
Dirty Cars Made Clean - Norcal928 Detail Day
The challenge was met - George Suennen's 90 S4 is clean like it hasn't been since new - well, at least on the outside. Thanks to Jim Morton for hosting more than a dozen Norcal928 cars at his house ant thanks to Brian for providing the quickest wax in the world. Nice cars, nice day and nicer people.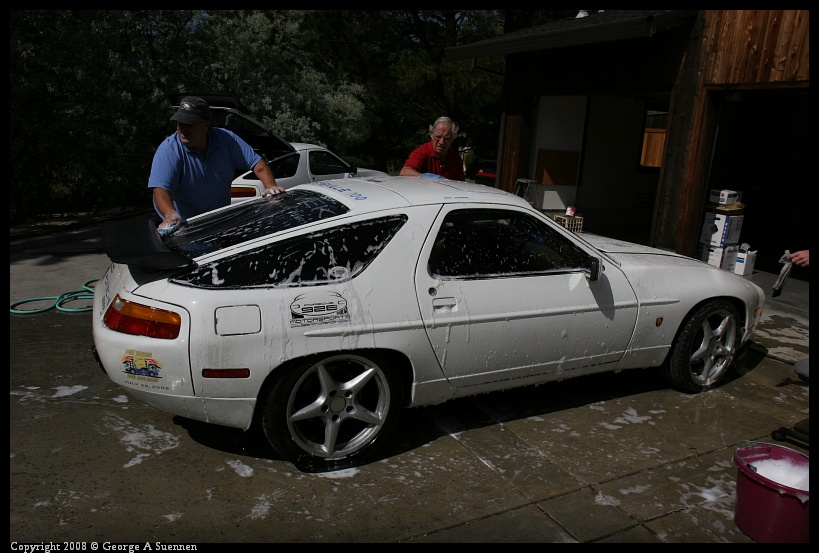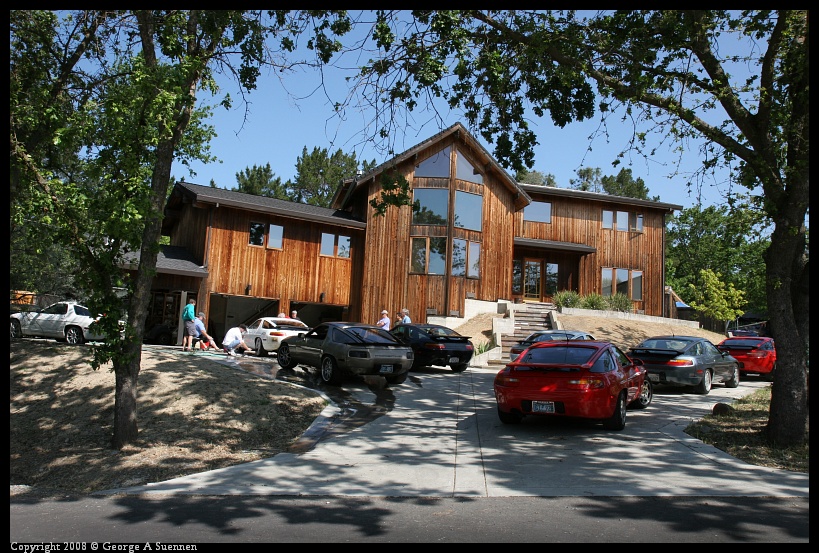 March 2008
March 12, 2008
Upcoming Events: Mark Your Calendars
March 22 – 3:15PM – Le Mans Karting – Pizza - Coffee
Come join your Norcal928 buddies for a little fun with smaller cars. We will be driving go-karts at LeMans Karting in Fremont. This is an indoor track with karts that go about 30mph. We'll race for best time over a half hour event. Hone your driving skills in a safe, fun environment. We will meet at 3:15PM for registration, and racing begins at 4PM. Cost for the racing session is $60. LeMans provides helmets, neck braces and driving suits or you can bring your own. Here's a link for more information: http://www.lemanskarting.com/
Join us for Pizza afterwards at Pizza Depot at 43450 Grimmer Blvd. in Fremont starting at around 5:30PM. Join us even if you can't make the karting event. Then Nicole Mossinger (91 S4) has invited the crowd over to her place for after dinner coffee and desert snacks. To reserve a spot, please reply to billb_msn@msn.com ASAP.
March 30 – Infineon Raceway - SCCA ITE SEASON OPENER
Come watch local 928 racer extraordinaire, Mark Kibort, pilot the venerable 1987 world-record Holbert car around Infineon Raceway in Sonoma. Spectators get in free. First race is 10:25AM; second race is 4:25PM. So, there will be plenty of time to hang around the pits with Mark and your other Norcal928 buddies. Bring food and water, as during these events the Infineon concessions are usually not opened.
April 19 – 10AM – Detail Day – Jim Morton's (Walnut Creek)
Jim Morton (93 GTS) and Brian Doty (88 S4) will be demo'ing and discussing various detailing products and techniques all day at Jim's house in Walnut Creek. If you want to wash your car and try some of the products and tips, come one over and join the fun. Or if you've got it clean already join us to exchange detailing ideas and just kibitz with your Norcal928 buddies. Further details to follow soon.
May 10 – 10AM-4PM – Sharks in the Park VIII - Tilden Park, Berkeley
Our annual Norcal928 picnic is just around the corner. Please plan to attend and spend the day in beautiful Tilden Park. The plan is for sunshine, barbecue and lots of your 928 buddies. As usual, it's free to 928 owners, families and friends. Details on the specific location will follow shortly.
June 13-15 – Sharks at the Lake – Lake Tahoe
This is an event that should NOT be missed. Two glorious days and nights in the scenic wonderland of Lake Tahoe. Organized and hosted by Cheryl and Tim Dey, this is a Father's Day weekend you will never forget. Beginning with an opening reception on Friday night, activities continue with a Saturday morning funride around this most scenic area, followed by lunch and a dinner banquet that evening. On Sunday we will take a leisurely drive around the lake and finish with a Father's Day lunch. Accommodations are at the Cal Neva Hotel, with rooms ranging from $89 on up. Dinner on Saturday night is $49 ($22 for kids). For further information, read the following message from Tim on Rennlist: http://forums.rennlist.com/rennforums/showpost.php?p=5159357&postcount=75
Room are going fast, so register soon.